ROAR: From the moment we met you in your design studio it was clear you were at the top of your game in Jewellery design and we felt so intrigued and fortunate to step foot in such a creative space. How did you get into jewellery design? Did you start with another form of art, which lead to where you are now?
Cesar: My studio is the one place that maintains a strong sense of place for me. It's where I live, work and play. I've made so many additions and alterations to this space over the past 10 years that shuffling things around has became a kind of therapeutic exercise that I need to undertake from time to time. Keeping the studio dynamic gives me the opportunity to experiment with the functionality of the space and test new ideas before they are implemented into the business.
I didn't start out in jewellery design. In fact I took quite a winding road before realising that it was the perfect vehicle for exploring my own concepts.
I started out as an office junior at a large architectural design firm straight out of high school. My job was to archive architectural plans and maintain the plan printer. I was then assigned to the model-making studio and was later offered a traineeship in CAD (Computer Aided Design).
In retrospect I couldn't have asked for a better introduction to design, technology and making. I would eventually complete studies in Architectural Technology, Industrial Design and finally Visual Arts.
I chose to complete my BVA at the ANU School of Arts that offered a workshop specialization in Gold and Silversmithing. It was here that I could combine all of my previous experiences.
My original focus in this period was object design and silversmithing. I would make several scale models and maquettes before committing to a final design. Creating technical drawings and making scale models had now become part of my regular working methodology and before too long I began to think of these tiny models in context of the body.
I moved back to Sydney in 2004 and within a year opened my own Studio and Gallery, Metalab.
We specialized in showcasing Contemporary and Objects and began making jewellery for exhibition, retail and quickly began to discover the general publics desire for custom work.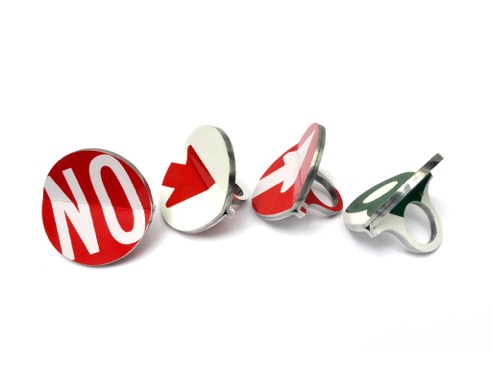 ROAR: Who has inspired and mentored you to get to where you can now make a living from your creative passion?
Cesar: Ha!... Have you met Nina? Nina is my wife, business partner and responsible in no small part for awakening my inner entrepreneurial spirit.
Nina is a people person. She's empathetic and generous with her time, so connecting with people comes easily to her.
Nina's curatorial philosophy is based on establishing strong rapports with our customers; her approach is to cater almost exclusively for our clientele and to surprise them with what they want. With her keen eye, an excellent understanding of consumer behavior and an unrelenting work ethic it was Nina who set the tone for how we conduct ourselves in business and ultimately transforming a creative passion into a thriving business.
ROAR: You and your partner Nina created a hub to design and work with other contemporary designers. From this you also started Courtesy of the Artist which is an amazing community building project/shop/events allowing the best designers to be able to showcase their designs and share their passions. As we have only just brushed the surface of what you do please give us some examples and a brief background of what it's all about and whom it is for.
Metalab operated from 2004 till 2013 from my current studio location in Surry Hills.
We curated and coordinated over 90 exhibitions, produced special events, held classes and workshops, hosted artist talks, mentored graduates, undertook commissions and represented over 100 studio artists in that period.
In 2007 we established Courtesy of the Artist not far from our studio and gallery in Surry Hills. It started as a retail case study for Metalab and quickly flourished into an independent and innovative retail brand in its own right.
It became clear to us early on that both the traditional representational gallery model and the existing retail format did not fit our vision. So we set out to define and execute a new concept for the presentation and retail of artist made jewellery and objects.
We currently represent approximately 60 studio artists, chosen specifically for their virtuosity but also their ability to create new work for exhibition, production and commissions.
Our concept centers around the artist and as their agent we actively promote them as individuals and create opportunities for them to showcase their work to the public.
We curate thematic exhibitions, offer the opportunity for solo exhibitions, product launches, instigate collaborations and present artwork for sale across all of our retail platforms.
We launched our Strand Arcade retail store in 2010 and in 2013 streamlined the business into a singular brand, Courtesy of the Artist.
Metalab became Courtesy of the Artist – Studio, and then in 2014 opened a second store in the Strand Arcade Courtesy of the Artist – Custom.
ROAR: What have been some highlights on the adventure so far?
Cesar: It's often difficult to recognize the small victories when you're on the inside looking out. But upon reflection, witnessing our business hold its own against more established players in the retail landscape is constantly rewarding. Having people seek out our artists specifically for significant custom orders is another rewarding scenario that has led to some outstanding outcomes and very satisfied customers. These moments are important to us.
We also consider hosting major or milestone exhibitions of an artists work in our gallery an honour. We have on occasion sold work from these exhibitions to major public and private collections.
Having a physical retail presence in Sydney's landmark shopping destination, The Strand Arcade was a bit like a coming of age for us. So being invited to open a store there is a significant highlight.
ROAR: What are some challenges in starting a business from scratch and continuing it as it even outgrows your expectations or dreams?
Cesar: Before starting out I had practically no real experience with small business.
I had written a business plan, developed a marketing strategy and fumbled through a financial plan. The latter being an ever-present thorn in my side.
As much as I thought I was prepared, the reality of maintaining a business like Metalab was physically and mentally exhausting not to mention very costly.
Managing the finances of any business is an obvious challenge especially for a fledgling creative.
I think the biggest challenge when starting a creative business from scratch is coming to terms with the amount of effort, commitment and sacrifice that it takes to nurture it. And if you have little experience with managing others then it is a valuable skill to develop quickly as your business grows.
We are celebrating 10 years in business this year and we're very grateful to have a great team of highly skilled individuals on our side.
We started this business because we believed in the importance of making well crafted and considered objects as well as maintaining a physical platform to showcase the best examples of Australian Contemporary Jewellery Design.
The challenge for us now is to keep walking the talk.
ROAR: What are some exciting things this year that people should know about what you guys are up too?
Cesar: At Courtesy of the Artist – Custom, we celebrate the bespoke as well as maintaining a monthly exhibition schedule.
In 2015 we will host 8 distinctly different events with the finale an exhibition celebrating our 10 years in business.
The Courtesy of the Artist Studio has also been working on developing new ranges of jewellery exclusively for our flagship store as well as new ranges in collaboration with other retailers, artists and designers. An exciting development for our brand and a direction we will continue to explore over the coming years.
The studio has also been commissioned to produce a series of art installations, awards for Amnesty International, an exciting collaboration with a beverage company and the second installment in our homegrown gemstone exhibition – Rare Earth.
ROAR: You guys are doing something so special in sharing and promoting amazing creative people and their work. Thank you for sharing a part of your story with us!
Follow and get in touch: Courtesy of the Artist Facebook @courtesyoftheartist instagram